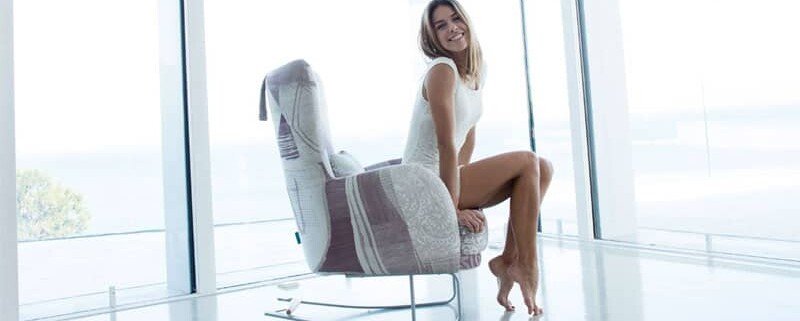 Very stylish, narrow and comfortable.
OUR VERDICT
The Kylian chair is a really sleek, narrow design, that fits well in most spaces, with it's stunning curved arms, winged backrest and choice of 3 base designs, legs, rocker base or Swivel base. On the swivel base you can turn 360° to face any aspect of your room or choose the rocking base to relax with that soothing constant motion. Available in both fabric or leather you can bespoke design it with your choice of up to 4 different fama fabrics  (seat cushion, back and frame, Lumbar cushion and butterfly headrest cushion) from their huge range of over 500 options.
FOR
Stylish design
Choice of; swivel base/rocking base/legs
Huge choice of fabrics and leathers
Comfortable sit
Good guarantee
Price & Availability
With an RRP of £1099 (at the time of writing) the Kylian is a really attractive option for a comfortable swivel/rocking chair available in Fama's hundreds of fabrics. There are over 500 fabrics to choose from, all of which are in the same price bracket and you can use multiple fabrics, one for the seat, another for the back and frame a third for the lumbar cushion and a fourth choice for the Headrest cushion, at no extra cost. If you don't want fabric you can also have the Kylian made up in one of Fama's hundreds of leathers for an extra fee.
Delivery from Spain in approximately 8 weeks, making Fama one of the fastest of our suppliers and a very good turn around for a custom made chair.
Design
Similar to the "iconic design" of the Lenny chair with its high back and shares the same seat and arm construction as the Komba. You can choose from the very stylish swivel base or the more traditional styles of the rocking base or wooden legs. It's stunning looks and enormous choice of fabrics means it can be designed to sit nicely with any Fama sofa.
Sustainability and the environment
Fama take their environmental responsibilities very seriously, using woods from sustainable forests, recycling 98% of their waste and refining their manufacturing and delivery processes to eliminate wastage.
Comfort
The Kylian is a very comfortable chair, the seat foam is a medium density with plenty of give, not really squashy but not rock hard, with the soft lumbar cushion providing that luxury comfort for your lower back. The high headrest has two slightly curved wings at the top, with a butterfly headrest that uses a small weighted strap, to just rest over the top of the chair making it adjustable to give great comfort for the head and neck. The narrow frame is a really nice size, with a lovely seat width allowing a snug seat but with comfortable armrest positions. Whether you like to relax with rocking or swivel motion or just static chair the choice is yours.
Maintenance
The Kylian is a  low maintenance piece of furniture, the manufacturers recommend daily dressing and plumping of the cushions and we've found that this will really help retain it's shape very well, if you are sitting on it daily. Mainly plumping of the lumbar cushion and headrest  will keep your chair looking new with occasional dressing of the seat cushion.
Longevity Guarantee/Warranty
Fama have a lot of confidence in the structure of their furniture and offer a lifetime guarantee on the frames of all their sofas and chairs and 10 years on the suspension. In the rare event that anything does go wrong we've found that Fama's customer care is second to none and they are always a pleasure to deal with.
Verdict
There is no need for compromise with the Kylian, a very comfortable and stylish armchair. It's slim design sits well with most sofas and fama's extraordinary range of fabrics and leathers means you can build it to suit your personality. The smooth 360° swivel system means you can take full advantage of your whole room, be it watching TV or twisting to make the most of the view out of your window.
Who this is for
The Kylian appeals to a broad range of customers, young and old, male and female, although men do sometimes prefer the larger dimensions of the Romeo chair from Fama. It can look very modern or classic depending on the choice of fabric.
How does it arrive and will it fit through tight access?
The Kylian arrives in a compact package and will fit through most access. It can be turned on its side to get through most doorways. If the worst comes to worst it is possible to remove the base, making it even smaller.
Should you buy it?
Great accent chair size, fits nicely in small spaces, really comfortable and available in hundreds of fabrics, can be designed to suit almost any space.
The Kylian chair is available to design and buy online today, or alternatively you can visit our Cheshire furniture store in person and view it for yourself!
https://miastanza.co.uk/wp-content/uploads/2017/07/Kylian-rocking-chair-side-from-Fama-O-Mia-Stanza.jpg
528
800
Nick Lightowler
https://miastanza.co.uk/wp-content/uploads/2020/10/Mia-Stanza-Logo-website.png
Nick Lightowler
2021-06-15 14:07:58
2021-10-15 10:12:35
Fama Kylian Chair Review