Minor differences in comfort and style, what to look out for.
Quick summary
The Moon chair and Moonrise sell equally well and share most features, but each has slight design tweaks, that will appeal to different customers. The main differences are in the seat style and headrests, there is a marginal difference in seat comfort with the Moon chair offering a slightly firmer seat. The Moon chair has a separate seat cushion to the footrest, whilst the Moonrise has a seat and footrest all in one, each style will sit better with certain Fama sofas (more below). The Moonrise is not available with a manual recliner so if you want 360° swivel action the Moon chair manual is the choice for you.
Moon Chair
Separate seat cushion to footrest.
Headrest roll (doesn't adjust).
Manual recliner available.
Very comfortable.
Good guarantee.
Price & Availability
There is no difference in price or availability with exactly the same RRP for both chairs and delivery from Spain in approximately 8 weeks, making Fama one of the fastest of our suppliers and a very good turn around for a custom made chair.
Design differences
Headrests
Moon Chair headrest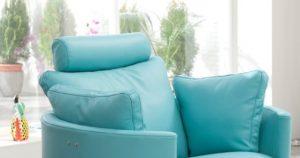 The Moon chair headrest is a stylish roll that provides support and looks attractive but is not height adjustable
Moonrise headrest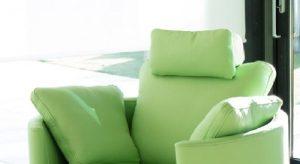 The Moonrise headrest is a stylish rectangluar shape with a soft cushion zipped on that provides comfort and support, looks attractive and is height adjustable for taller individuals.
Seat and Footrests
Moon Chair seat and footrest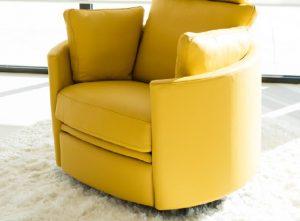 The Moon chair has a separate seat cushion unlike the Moonrise, this gives you the flexibility to design your chair with a different fabric on the seat cushion to the fabric on the footrest. There are more gaps in the moon chair when reclined but this design is still aesthetically pleasing. This style works particularly well when it's bought to sit alongside the following fama sofas that also have a separate seat cushion; Afrika, Loto, Nina, Simone, Astoria, Josephine, Pacific, Calessi, Bari, Manacor, Helsinki, Opera and Bolero
Moonrise seat and footrest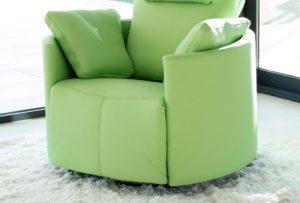 The Moonrise seat cushion and footrest is one complete piece with no gaps. Some people find this more attractive but it means that it is marginally less flexible on fabrics options. The Moonrise sits well with the following Fama sofas, also using an all in one seat; Avalon, Baltia, Atlanta and Axel
Comfort and functionality
The Moon chair has an ever so slightly firmer seat, but we can barely notice the difference. The adjustable headrest of the Moonrise is better for taller people and it provides a softer cushion for the neck and head. There is also a gap between seat and footrest on the Moon chair when reclined which there isn't on the Moonrise so it gives you a bit of extra support under the knee. They both then rock, recline and swivel however only the manual version swivels a full 360° and only the Moon chair has a manual option, so if you want that functionality (like Serena Williams with her moon chairs) to look all around your room, then the manual Moon chair might be the option for you.
Maintenance
Both chairs are extremely easy to look after but Fama would recommend some slight dressing every now and then to plump and smooth out cushions. The headrest and seat of the Moonrise will need slightly more attention due to their softer interiors.
Verdict
A few small design differences between the two which might give one the edge for you depending on your requirements but all in all we've found that both chairs are still equally as popular. Both are available as part of our online living room furniture range, or you can visit our Cheshire furniture store to view them in person.
https://miastanza.co.uk/wp-content/uploads/2021/06/Moon-chair-vs-Moonrise.jpg
450
450
Nick Lightowler
https://miastanza.co.uk/wp-content/uploads/2020/10/Mia-Stanza-Logo-website.png
Nick Lightowler
2021-06-14 15:09:12
2021-10-15 10:15:47
What's the difference between the Fama Moon Chair and Moonrise recliners