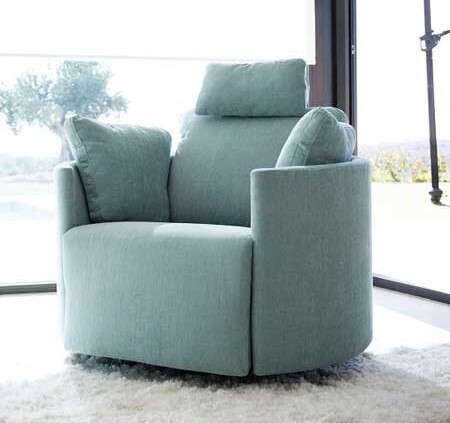 Recliner Armchairs
.
Here at Mia Stanza, we are proud to offer a selection of the best designer recliner armchairs available. Our luxury armchairs from leading brand Fama provide unrivalled comfort and technology in modern and bold styles.
We've been furnishing homes in Crewe, Nantwich, and the surrounding areas of Cheshire for 20 years, and we also deliver nationwide to the rest of the UK.
We welcome you to come and visit our Nantwich showroom and browse a selection of our favourite fabric and leather armchairs from these fantastic suppliers. Alternatively, you can shop through our recliners below and order online.
Display 100 Products per page
Luxury Designer Armchairs with Reclining Functionality
Many customers prefer to have reclining functionality in an armchair for enhanced comfort. All our reclining armchairs can move between an upright position or a laid-back position, either via electric or manual power.
Fabric & Leather Reclining Armchairs from Fama
Our chairs are sourced from Fama  – founded in 1970, the Spanish sofa and chair manufacturing company specialise in combining advanced technology with soft furnishings to enhance comfort and convenience. Fama chairs offer all-over body support in the reclined position; from head to toe, you will be comforted and supported.
Highly Customisable Options are Available
All our customers have different styles, tastes, and wishes for finding the right armchair for their space. We recognise the importance of having bespoke options, so you know your chair was made for you and not mass manufactured. That is why we have collaborated with Fama to make sure you can customise your recliner armchair in the styles shown above. Here are some of the ways you can make your chair unique:
You can choose different fabric options, all at no extra cost, for the:
Arm & Frame Fabric
Seat Cushion Fabric
Back Cushion Fabric
Headrest Fabric
Arm Cushion Fabric
You can view our range of fabrics and leathers available on our Fama Fabrics page. Many of our armchairs allow you to choose between a battery-powered reclining armchair or a manual recline function. The choice is yours!
Want More Information? Get in Touch Today
Our friendly team are more than happy to help with any questions you may have about our reclining armchairs or our delivery options. Please get in touch by calling 01270 628 836, or you can fill out an online contact form. We always aim to get back to our customers as soon as possible.