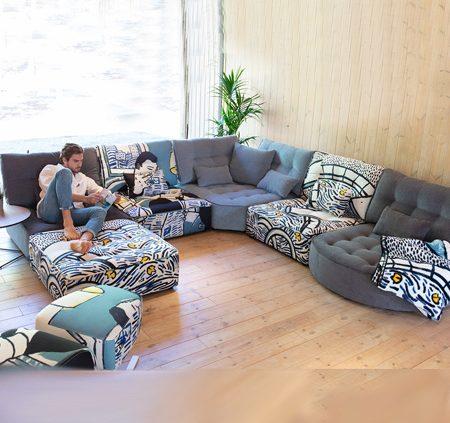 Corner Sofas
.
Here at Mia Stanza, we have access to one of the best selections of contemporary corner sofas in the UK. We've sourced only the highest quality designer corner sofas for our collection, featuring cutting edge, innovative designs from around the world. We've brought the best of European modern design to the UK. To find your next sofa, just browse our online store or pay us a visit at our Cheshire Showroom, where you can sit back and relax on our wide range of furniture on display.
Display 100 Products per page
Designer Corner Sofas from Fama
We are thrilled to have one of the largest collections of Fama corner sofas in the UK. These are true statement pieces that will inject colour, personality and sophistication into your living room.
Few brands compare to Fama when it comes to versatility, comfort and functionality, and the modular design means you can customize and build a truly bespoke modern corner sofa – with a huge variety of seat shapes and sizes, footstools, and corner pieces available. It's even possible to add a recliner to some designs and options to hide headrests when not in use.
Fama offers a huge range of leather and fabric corner sofas, and, with the freedom of the modular system, you can mix and match Fama fabrics to create something completely unique.
Designing your own Fama sofa is so easy – you can use our online store to customize each individual module before adding to your basket.
Modern Corner Sofas from Sits
Alongside our Fama collection, we're proud to stock a range of sleek modern and comfortable furniture from Sits, whose contemporary corner sofas suit both large and small configurations. Sits is another modular approach, giving you the freedom to build the sofa that best works in your home, whether that's a discreet three-seater design or a large u-shaped model that can accommodate all your friends and family.
As always, Sits corner sofas are available in a wide variety of fabric and leather finishes, so any model can be completely adapted to match your décor. No detail has been forgotten about – as demonstrated in the customizable armrest sizes on some models.
Contemporary Corner Sofas from Calia Italia
Calia Italia's Fox Trot corner sofa is both simplistic and striking in its design. The modules have been designed to ensure that, no matter the configuration, you'll be left with a seamless designer corner sofa. The Fox Trot's modules can be moved around easily to adapt to any room and work well as standalone pieces.
Mia Stanza has been furnishing homes in Crewe, Nantwich, and Cheshire's surrounding areas for nearly 20 years, and we now deliver all over the UK. We always recommend trying out our luxury living room chairs in person, so why not visit us at our furniture showroom in Cheshire? We'll be happy to help, or you can contact us today to discuss any of our fabulous furniture.