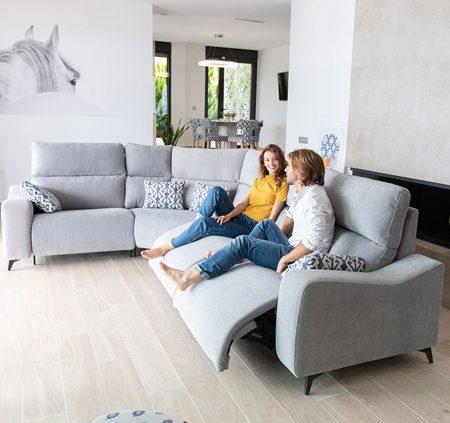 Recliner Sofas.
Welcome unique style, comfort and unrivalled support into your home with one of our designer recliner sofas. These models have been built with relaxation in mind, and here at Mia Stanza, we showcase some of the best recliner sofas in the UK at our showroom and online.
Contemporary Recliner Sofas.
Take the weight off your feet after a long day and sink into one of our deep and comfy sofas. Many of our recliner sofas are high-backed for maximum comfort no matter your height, offering fantastic support for the head, neck and feet.
Electric reclining sofas give you versatility and choice in seat position and shape at the click of a button. You can either recline both the back and the footrest or leave the back support in the seated position and elevate the footstool. Our recliners are a genuinely adaptable solution to sofa design, able to move and accommodate you, no matter your mood.
Display 100 Products per page
Recliner Sofas from Fama.
Mia Stanza has one of the largest Fama sofa showrooms in the UK. You'll find many reclinable options within our collection in a huge variety of styles, fabrics, and finishes. The modular nature of brands like the Fama allows you to customise and build a bespoke sofa to suit your space. The option to add motorised reclining modules to certain Fama designs means you get the added comfort that comes from a recliner without sacrificing style.
The adaptability of Fama recliners means you can have as many reclining modules as you like as you build your dream sofa. This flexible approach to sofa design lets you incorporate recliner modules into sofas or all shapes and sizes – from space-saving two-seaters to expansive corner sofas to fill larger spaces – it's possible to have a recliner in most configurations.
As with all Fama designs, their recliner sofas are available in hundreds of fabrics, and the modular system gives you the freedom to pick your finish for each module; you don't have to have one fabric for the entire sofa. This means that if you like the idea of leather electric reclining sofas but have seen some striking fabric designs within Fama's collection, you don't have to choose – you can have both!
Design Your Bespoke Reclining Sofa.
It's possible to design, build and purchase your new reclining sofa right here on our website. If you need inspiration on where to start, take a look at Mia Stanza TV for brief introductions to all the sofa styles we stock and how they can fit together to create something functional, stylish and unique to your room.
To appreciate the true comfort and quality of our sofas, we always recommend visiting us in person at the Mia Stanza Cheshire Furniture Store. We stock one of the largest collections of Fama furniture in the UK and are always rotating our in-store displays to showcase the latest in Fama's innovative design. If you've spotted a specific contemporary recliner sofa here on the website and want to check if it's available to view in our showroom, please do not hesitate to get in touch.