Arianne Love Corner Sofa from Fama – Design Your Own Bespoke Sofa
Free delivery on all orders over £500. Use code "freedelivery"
£295.00 – £1,505.00
Arianne Love corner sofa from Fama
The Fama Arianne Love Sofa, extends the range of options from the previous Arianne, offering new sizes, round footstools, a new corner piece and tables with lifting top. Apart from these new options, the Arianne love comes with a new finish on the seat.
Over 300 different fabrics for you to choose from.
Build your own size and shape using the Arianne Love's range of modular sections.
Choice of wood finish or metal feet to compliment your room.
Lifetime frame warranty for your peace of mind.
10 year guarantee on seat suspension.
2 year guarantee on the rest of the pieces.
Dimensions
---
| | |
| --- | --- |
| Choose Arianne module | Module A (93cm), Module B (70cm), Arianne Love M (93cm), Arianne Love N (73cm), Arianne Love L (91cm), Arianne Love V (159cm), Arianne Love VX (180cm), Module F (93cm), Footstool D (93cm), Footstool E (70cm), Footstool G (48cm), Module Y1 (113cm), Module Y2 (113cm), Arianne Love S1 (109cm), Arianne Love S2 (109cm), Arianne Love T1 (111cm), Arianne Love T2 (111cm), Module C (Corner), Module Z Corner (122cm), Module R (curved corner), Module AA (186cm), Module AC2 (193cm), Module AC1 (193cm), Footstool RL (93cm), Footstool WL (93cm), Footstool QL (93cm), Footstool QM (73cm), Footstool RM (73cm), Footstool WM (73cm), Footstool IRS (48cm), Footstool WS (48cm), Arianne Love PS (49cm), Arianne Love PT1 (65cm), Arianne Love PT2 (65cm) |
Unleash your inner designer
(Works best on desktop or laptop)
Become a designer and create your own unique piece of furniture to reflect your personality and wow your friends and family, using Fama's 3D simulator. Build sofas using different modular combinations and customise your furniture with different fabrics on seat/back/frame etc until you find the perfect mix and fall in love with your creation.
If you have problems working the simulator just give us a call on 01270 628836 and a member of staff will talk you through it, or take a look at our blog, how to use the Fama 3D virtual simulator.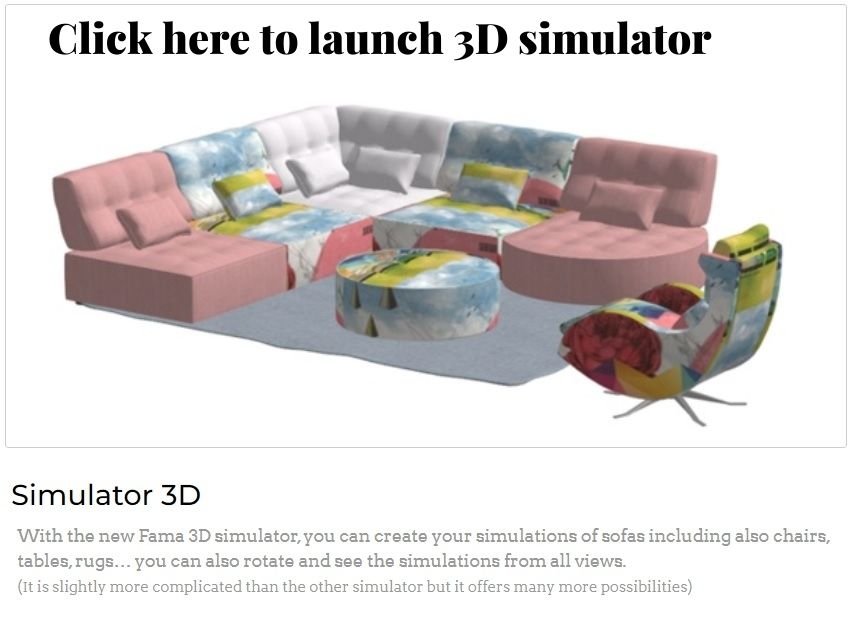 Delivery for Fama furniture
---
Delivery: Approximately 14 weeks
Quick Contact
Mia Stanza
The Manor House
Beam Street
Nantwich
Cheshire
CW5 5LR
Call: 01270 628836
Email: [email protected]