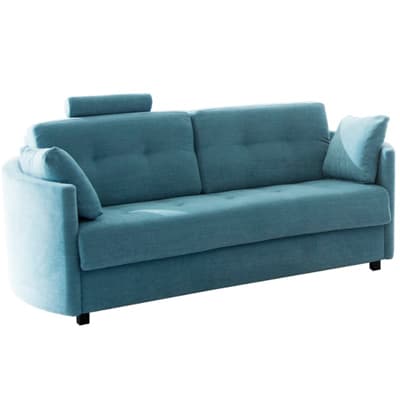 Sofa Beds.
If you're looking for a contemporary sofa bed in the UK, you've come to the right place. Whether your home is large or small, a good sofa bed can be a welcome addition – offering a practical yet stylish solution to sleeping space for guests or for those looking to reduce the number of beds in their homes. Beds are bulky and take up a lot of space, so if you want to maximise floor space to make room for a home office or simply increase the number of people who can sleep in your house whilst retaining your personal style, designer sofa beds are an excellent option.
Display 100 Products per page
Fama Sofa Beds UK.
Here at Mia Stanza, we are proud to have one of the largest Fama furniture collections in the country at our Cheshire furniture store. If you're looking for a modern sofa bed, we have a comprehensive selection of styles from Fama, with customisable models that can fit and adapt to your space.
Fama understands that a sofa bed needs to perform both as somewhere to sit and sleep and also needs to blend into your home and complement your style. Discreet solutions like their Gala and Dali models offer compact comfort – perfectly suited to those who want a sofa bed that can work in a small space. Designs can be made unique to you with customisable arm, frame and cushion fabrics, and fabrics can be mixed and matched with no increase to the overall price.
Luxury Modern Sofa Beds UK.
Fama's distinctive style embodies user demands, retaining functionality whilst remaining stylish and sophisticated. The modular system adopted by many of their luxury sofas is carried through to their contemporary sofa bed designs – allowing you to configure a sofa that fits perfectly into your space whilst also incorporating a sofa bed.
Versatile models like the Bolero offer multiple different shapes, sizes, configurations, and options for single or double mattresses. Converting the sofa into a bed is easy and hassle-free, and the integrated mattress is of thick, high quality.
Unique Sofa Bed Solutions.
For a truly seamless experience when converting a Fama sofa bed, you may want to consider the Indy, which incorporates an electric motor, controlled either by remote control or a mobile phone. Not only does this function allow for easy reclining of the sofa's footrest and back support, but it transforms the model into a full-size double bed when needed. The ingenious extension systems make this a compact unit suitable for even the smallest spaces.
We always think Fama furniture is best appreciated in person – so come and see us at our store in Nantwich, where we've been providing people with furniture for nearly 20 years. If you see a designer sofa bed you like on our website but have questions, do not hesitate to contact us or give us a call on 01270 628836; we'll be more than happy to help.