Josephine Sofa From Fama
£2,649.00
Fama Josephine sofa
The Fama Josephine sofa, is a smart sofa with a very special design. It's curves make it special, as beautiful from the front as from the back. Nice paddled back and buttoned scatter cushions.
Over 500 different fabrics for you to choose from.
Metal legs.
2 large back cushions, 2 medium cushions & 2 lumbar cushions.
Lifetime frame warranty for your peace of mind.
10 year guarantee on seat suspension.
Josephine Dimensions

---
Unleash your inner designer
(Works best on desktop or laptop)
Become a designer and create your own unique piece of furniture to reflect your personality and wow your friends and family, using Fama's 3D simulator. Build sofas using different modular combinations and customise your furniture with different fabrics on seat/back/frame etc until you find the perfect mix and fall in love with your creation.
If you have problems working the simulator just give us a call on 01270 628836 and a member of staff will talk you through it, or take a look at our blog, how to use the Fama 3D virtual simulator.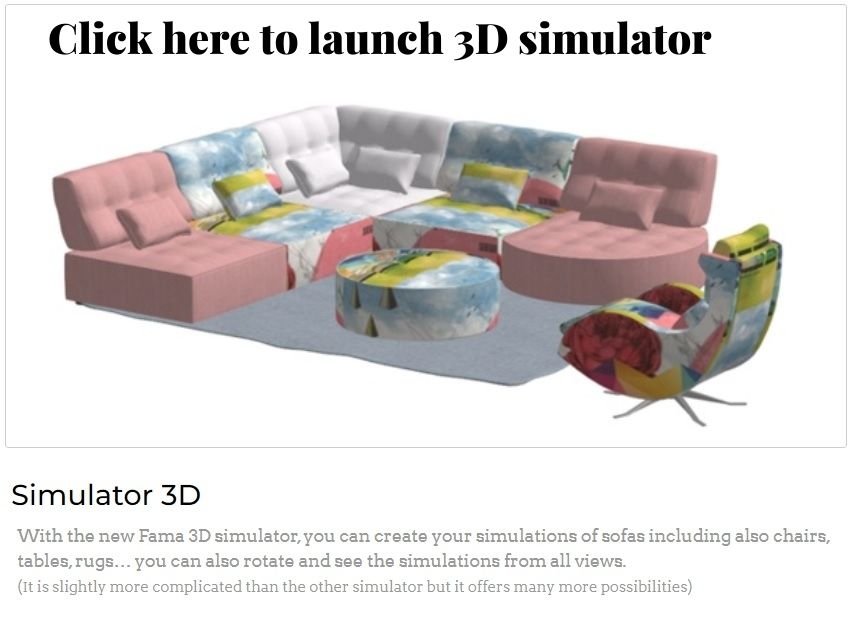 Delivery for Fama furniture
---
Delivery: Approximately 14 weeks
Quick Contact
Mia Stanza
The Manor House
Beam Street
Nantwich
Cheshire
CW5 5LR
Call: 01270 628836
Email: [email protected]