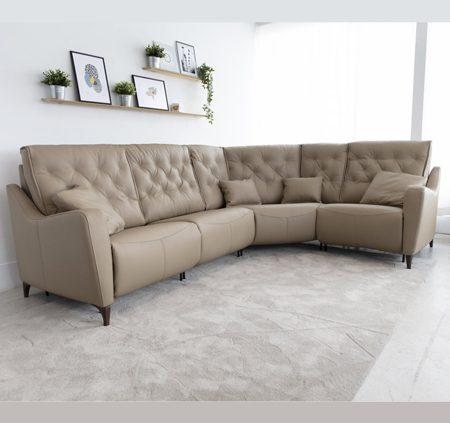 Designer Leather Sofas
Add a touch of sophistication to your home with Mia Stanza's range of contemporary leather sofas. Whether you're looking for elegant and sleek straight lines to blend seamlessly into a minimalist space, or a stylish and playful piece that stands out from the crowd, we have leather sofas to suit all tastes and room sizes. Fama's ingenious modular system means that no matter the size and shape of your space, you'll be able to design a leather sofa that works with and compliments your room and personal style.
Display 100 Products per page
Modern Leather Sofas from Fama
Fama's modern approach to sofa design affords you the freedom to design a sofa with all the luxurious little touches you want without sacrificing style or comfort. Many models allow you to add recliner sofa elements to one or all modules for ultimate relaxation. The Arianne Leather Sofa brings the versatility and contemporary comfort of our ever-popular Arianne Love, opening the doors to even more design choices with hundreds of leathers to choose from.
Fully Customised Luxury Leather Sofas
All our Fama leather sofas come in a diverse range of both traditional and contemporary types of leather. Choose a bright and bold finish to create a statement piece that will turn heads, or opt for a natural tone that will gently lift the ambience and design of any room without being overbearing. It's entirely up to you. Of course, if you need any assistance in choosing your new designer leather sofa or module configuration, visit us in person at our Cheshire furniture store, where we'll be more than happy to guide you through all the available Fama fabrics and leathers.
A Modern and Modular Approach to Sofa Design
What sets Fama furniture apart from the crowd is the vast range of module shapes and sizes available across many of their models, which allow you to create a genuinely bespoke leather sofa that is unique to you and your space. Whether you want a compact two-seater to fit into a snug space or a sweeping and grand corner piece with chaise ends and added hidden storage, anything is possible..
Mia Stanza is a family run business that has been supplying the people of Nantwich and the surrounding areas with designer leather sofas for almost twenty years. We always recommend popping into our Cheshire furniture store in person to appreciate the true beauty and stunning designs. We are proud to have one of the largest Fama showrooms in the UK, and when you visit us, you'll always speak to a member of our family. If you want any information about which  luxury leather sofas we are currently displaying at our showroom, give us a call on 01270 628836 or contact us via our email enquiry form.