Buying A Corner Sofa – Everything You Need to Know
There's a lot to consider when buying a new sofa. You'll need to think about your budget, the shape of your space, who uses the room, the style of your décor and what functionality you want your new sofa to have. Of course, a major consideration is whether or not you should invest in a corner sofa. You may even have already decided that a corner sofa is right for you, but with such a wide variety of styles and shapes available, it can be tough to know what to pick. Today, we're going to discuss everything you need to know about buying a corner sofa, so you make an informed decision.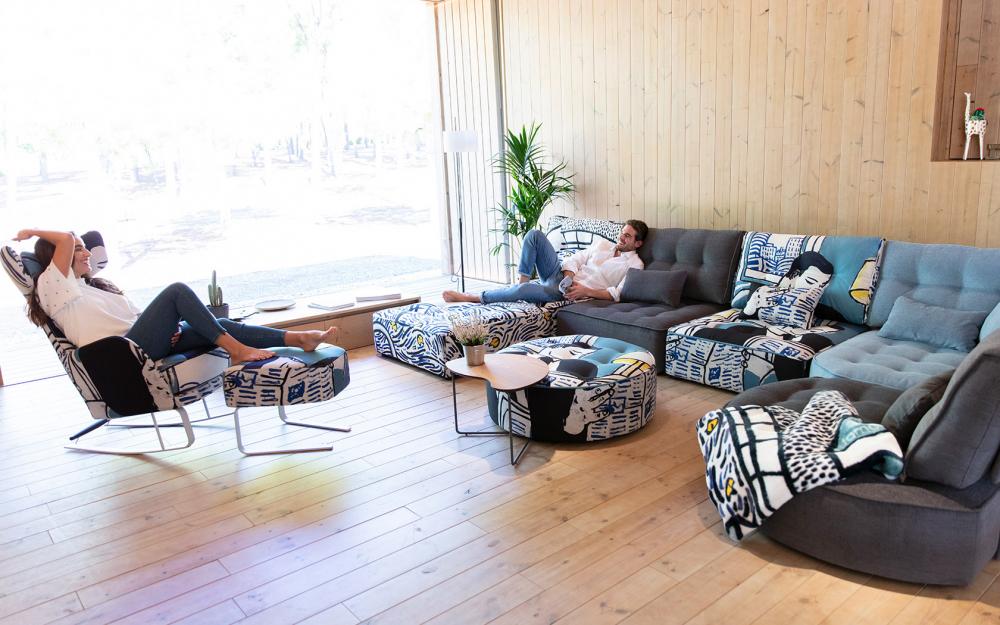 Great for Families
If your lounge is the hub of your home and the place your family gathers in the evenings to relax together, then a corner sofa is a fabulous option. Corner sofas offer ample seating space with room for everyone to struggle up or stretch out, but at full capacity, you may find yourselves sitting quite close together. This isn't usually a problem for families who are used to being in each other's spaces, but if you often have friends or neighbours over, it might not be ideal. Sitting thigh to thigh with someone you don't know as well as your partner or children can be awkward.
If you're the type of person who entertains often or likes having friends round for special occasions, a more formal arrangement of separate sofas and armchairs will better suit your needs. Not only will you be able to prevent getting too close for comfort, but you'll also be able to face each other, which is harder to achieve with a corner sofa. There's a whole myriad of contemporary sofas in the UK, so have a browse and see what catches your eye.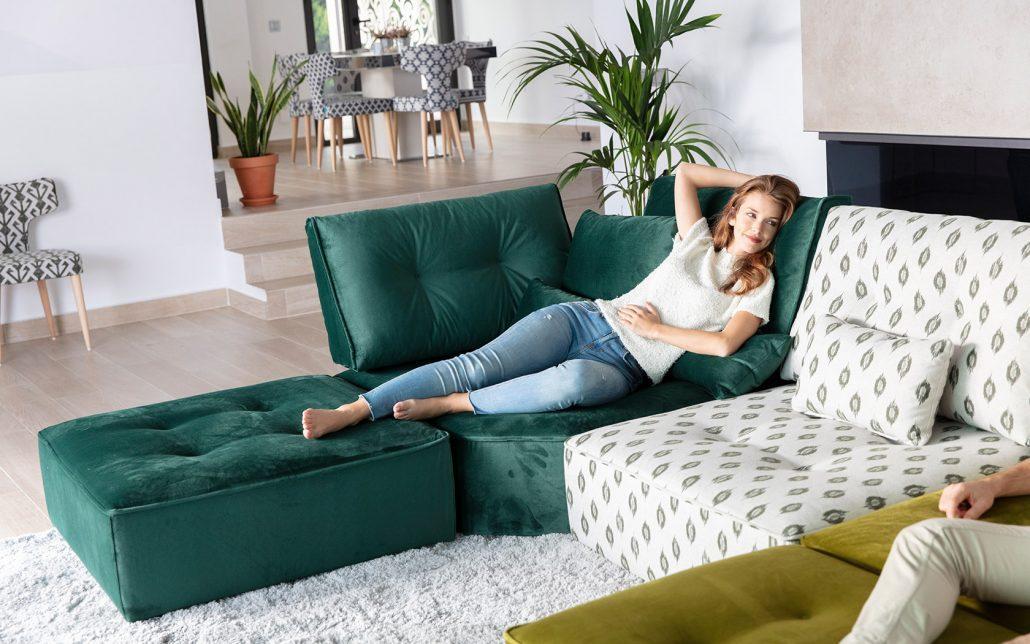 The Angle of The Corner
The angle of the corner can influence the look, position and functionality of a sofa. For example, a 90o right-angled corner will fit snuggly and squarely into the corner of a room. This type of corner sofa utilises the floor space well and provides a lovely area to curl up or stretch out if there's only a few of you using the sofa. However, right-angled corners may not be as comfortable when a lot of people are using the sofa at the same time as sitting upright on the corner piece will leave little space for legs.
To solve this issue, any Fama sofas that we stock at Mia Stanza have angled corners. This leaves space for your legs and enough room behind the corner unit for a floor lamp to provide warm, ambient lighting to the corner. Because of Fama's modular design, you can make your angled corner sofa as long on either end as you like, choosing the perfect modules to fit your space. If you're concerned about how much a corner sofa will eat into your floor space and you live close to our Cheshire furniture store, you can take advantage of our measuring service to ensure you make the right decision.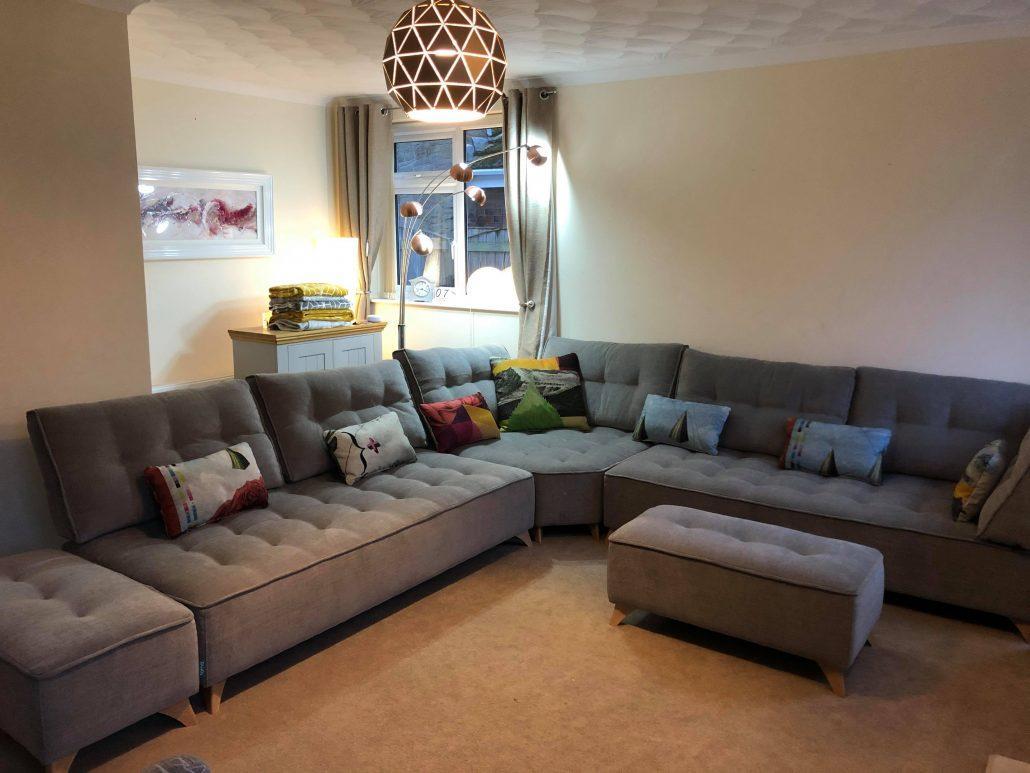 The Impact of Size and Position
The size of your available space will play a big role in determining the style of sofa you purchase. In the right space, corner sofas can actually make a room appear larger, particularly if pushed almost flush against the walls, leaving the rest of the room open. However, you don't always have to have a corner sofa backed against a wall, and if you have a large, airy space to fill, a statement corner sofa will serve as a striking centrepiece if positioned in the middle of a room.
Fabric Design and Colour
We're fortunate that luxury corner sofas in the UK come in hundreds of different fabric and leather finishes and a wide variety of patterns. Opt for a totally bespoke, customisable corner sofa like those available from Fama at Mia Stanza. You'll be able to pick the colour of each module to complement your space perfectly.
If you're working with a small or dimly lit space, choosing a light colour for your new corner sofa fabric or leather is a good idea. This will help make the room feel lighter and bigger. Of course, if you're concerned about keeping a light fabric clean, you can always opt for wipe-clean leather for easy upkeep.
Many bold and beautiful fabric designs are available for those who want to make their sofa the centre of attention. You may like the look of some of the more daring Fama fabrics but have concerns surrounding how busy the design will look over a large sofa. Fama's modular design means you can choose a couple of modules in a vibrant finish and find a complimentary block colour for the others to help tone down the overall effect.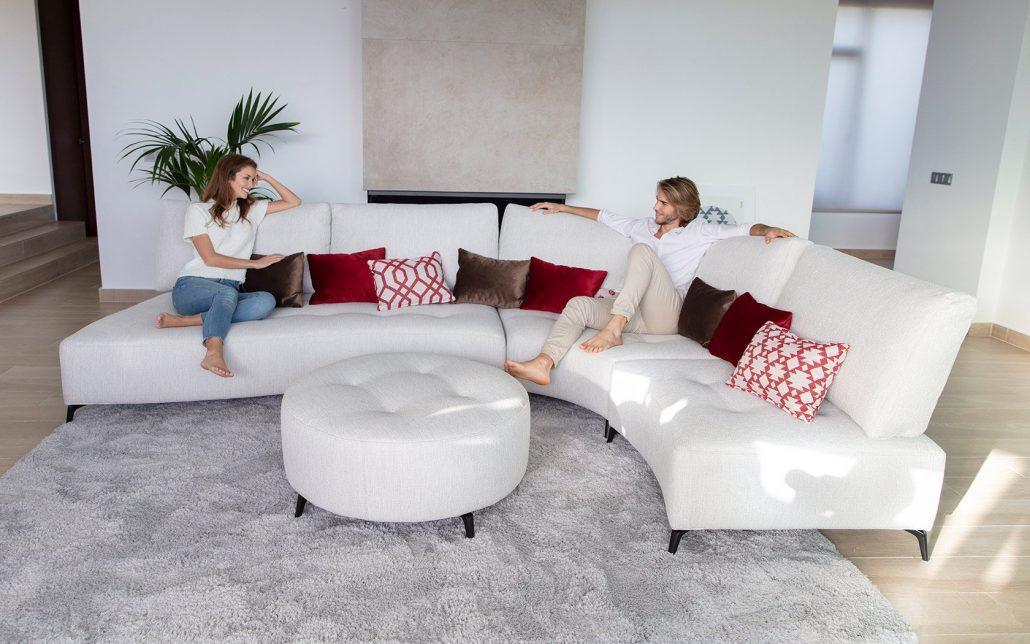 There's a lot to think about when choosing your next corner sofa. Every home is different, and what suits someone else might not suit your needs. That's why it's so important to choose a sofa provider who can give you customisable options. So if you're still struggling to decide, why not pop down to Mia Stanza and test out some of our fabulous sofas in our Cheshire furniture store, or contact us today for more information on the luxury sofas we have in stock.
https://miastanza.co.uk/wp-content/uploads/2015/03/Cassata-WO.jpg
611
1000
Nick Lightowler
https://miastanza.co.uk/wp-content/uploads/2022/07/Mia-Stanza-Logo-website-300x138.png
Nick Lightowler
2022-01-10 12:53:00
2022-01-10 12:53:20
Buying A Corner Sofa – Everything You Need to Know