Latest trends from Fama at the furniture show 2018
We've just had our annual visit to the furniture show where we get to see all of our favourite furniture suppliers and hopefully meet some new ones along the way.  First up was our Spanish friends from Fama, Javi, Laura, Jim and Felix.
New from Fama
Felix's latest collection is based on the sofas of the seventies, reinvented with Fama's exclusive fabrics, supreme comfort and stunning design twists, making them perfect family sofas for the modern home.  Whilst some manufacturers may have one or two best selling models, Felix and Fama are able to constantly deliver brilliant designs, fantastic quality and the best customer service year after year.  We went with the intention of selecting fabrics for a new Opera sofa to add to our range, a really special modular sofa range that combines straight lines and curves to great effect (we had the pleasure of trying it on one of our trips to the factory in Spain last year).  The Opera will be arriving for you to see in the shop in the Spring, but as well as the Opera we were very excited to see Fama's innovative new styles for 2018/19 and beyond.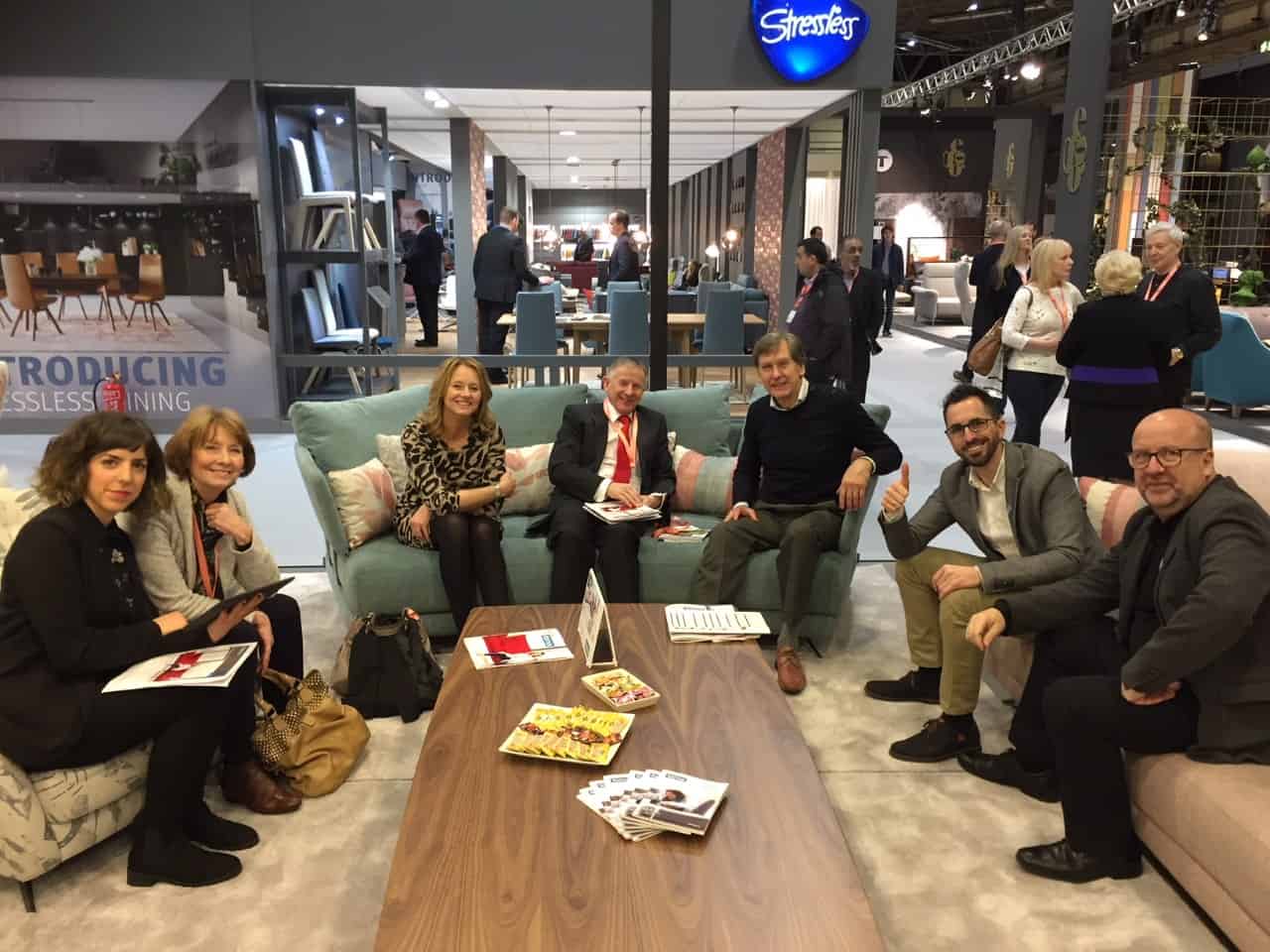 Fama team chatting with our family from left to right, Laura, June, Louise, Jim, Eric, Javi & Felix.
After completing our Opera order we were introduced to Fama's new "Seventies" collection, firstly "Simone" and then the extremely comfortable recliner sofa, "Avalon". 
Simone
The Simone sofa was immediately eye catching with its high buttoned back design and striking red fabric. The corners curve in providing a really comfortable back support when you relaxed into them.  This sofa will really appeal to those looking for exceptional comfort whilst sitting upright, the high back offers greater support to the head and neck allowing full relaxation.
Avalon
Again boasting a high back the Avalon is very, very comfortable, with a much softer seat than the Simone and optional recliners this really is a great family sofa, ideal for slouching back on, getting your feet up and finding your perfect position to curl into.  As you can see from the pictures below it didn't take long for Louise and June to get comfortable.
As with all of Fama's sofas the Avalon is available in over 300 fabrics and you can use Fama's virtual simulator to design the perfect combination to suit your personality and your home.
The Avalon large sofa and chair will be arriving on the shop floor for you to try in the Spring.
We also took the opportunity to refresh a couple of our other products with this years newest fabrics and ordered a couple of Fama's most comfortable chairs, the Kangou and the Kylian.  We can't wait for all of the new Fama products to become part of our designer furniture online range in the Spring and you can be the first to hear about it by following us on social media or joining our mailing list.
Subscribe to our newsletter
Follow us on Social Media
https://miastanza.co.uk/wp-content/uploads/2018/01/Fama-Mia-Stanza.jpg
960
1280
Nick Lightowler
https://miastanza.co.uk/wp-content/uploads/2020/10/Mia-Stanza-Logo-website.png
Nick Lightowler
2018-01-25 16:06:58
2022-01-12 10:25:48
Latest trends from Fama at the furniture show 2018