So you want a new sofa?
Choosing your sofa is a big decision, it can be quite stressful and time consuming.  DON'T worry, take your time, it's a long term choice and a large investment.
We spend many hours on our sofas, socialising with family and friends or relaxing with a good book or movie.  It's important you get the decision right and choose the sofa that suits you best!
How do you sit at home?
Take note of how you are using your sofa already.  Do you like to sit upright, Do you like to curl up with your legs beneath you or sprawl out right across your sofa.
What style sofa are you looking for?
What is the shape and size of your room.  You might really want a corner/chaise unit to lie out on but it wouldn't look quite right.  Start with the right sofas to fit the room and then you can build them to suit your needs.  Remember sofas, like the Afrika, come with lots of modular options, so that you can fit them to your space. The pictures below are customer photos showing how they adapted the Afrika to suit them.
How many people are you trying to seat
Is it just one or two of you most of the time and you need extra seating occasionally when you have the extended family round. Or do you need seating for you and your 5 children everyday?  If it's the former then little accent chairs and stools don't take up much room and can be moved out to seat visiting guests.  Some sofas even have stools stored in the arms like the very clever Hugo from Fama.
If it's the latter and you need lots of seating, then a modular system might be for you.  The Arianne, Afrika and lotus sofas from Fama for example can be built up with many different units.  You could have one seat with an electric recliner, one with extending seats, a corner unit, a fixed module and even a chaise unit all in the same sofa to suit the different members of your family.  The lotus even has a ratchet head rest that will support the head at multiple different angles, a sofa to suit all shapes and sizes.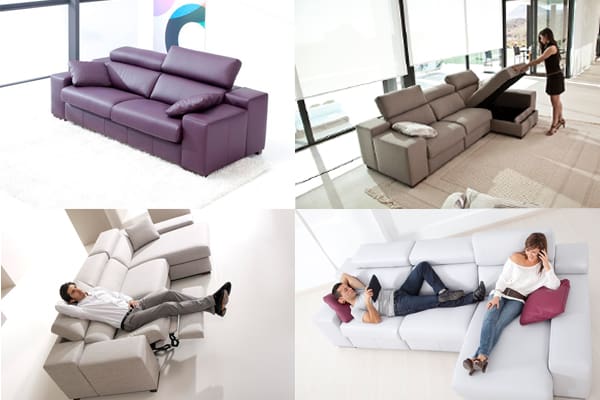 How will the room be used
Is it to watch tv or even a cinema room? Then you will want a really comfortable relaxing sofa that you can lounge back into like the Arianne.  Or you might even prefer to go with a number of comfy armchairs, we've filled a few customers' cinema rooms with moon chairs and they've been delighted.  Alternatively it could be a room for socializing? Then you might want to go with a really classic and stylish sofa like the Francesca from Ashley Manor or the Retreat from Alexander and James
Choosing your fabrics or leather finish
If you already have a colour scheme in mind for your walls, floor and carpets then you could bring your paint or fabric samples into the store to help you find a complimentary sofa design.  However if you're starting with a blank canvas then you can really go wild with your fabric choice and design the room around the sofa.  Fama's virtual simulator is a great tool for designing your own sofa and seeing how different fabrics or leathers might look, although it's still best to see the fabric in the flesh before you buy.
If you need a bit of help with your sofa choice we offer a FREE online design service or a home visit interior design service  for local customers where I will come out to your home and work with your ideas for the room to help you create your perfect space.  Or you can always just email me here; louise@miastanza.co.uk
For more tips and news of our upcoming promotions please join our email newsletter;
https://miastanza.co.uk/wp-content/uploads/2016/01/Afrika-Main-Sofa-from-Fama.jpg
450
450
Nick Lightowler
https://miastanza.co.uk/wp-content/uploads/2020/10/Mia-Stanza-Logo-website.png
Nick Lightowler
2017-01-31 17:18:17
2017-11-28 13:03:07
5 tips for choosing your new sofa